What's new?
Our follow-up Survey 2023 has now launched.  We will be sending invitations to participants in batches from May-June 2023.  If you are an active participant in our cohort, watch out for your emailed invitation.
If you would like to update your information, please visit our contact page.  Staying in touch with our participants is critical to the study's success! Thank you!
In 2001, hundreds of men and women in Alberta began to join the largest health study ever undertaken in the province. Alberta's Tomorrow Project was born, and in the years since has achieved a participant community of 55,000. Many of our recruits have stories of cancer within their own families, while others simply believe in the value of scientific discovery to reduce the incidence of debilitating disease in decades to come.
Signing up between the ages of 35 and 69, the participants have generously donated their time to fill out extensive and detailed questionnaires about their lifestyle habits and health history: what they eat, how much they exercise and sleep, prevalence of disease in their family, which screening tests they've had, the breadth of their social network, and more. Most have also given blood, saliva, and urine samples, so their biological specimens can be analyzed and compared by researchers.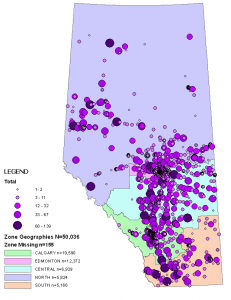 If participants couldn't come to us, we went to them. More than 140 mobile study centres were set up in conference centres, churches, hotels and other community meeting places, to ensure broad representation of the province's diverse population.
It's a long-term relationship, one that will unfold over the next several decades. Our participants have agreed to stay with the project and to regularly update us through follow-up surveys on their habits and state of health.
In the meantime, there is much information ready to be examined immediately, by our own scientists and those from educational and research institutions across Canada, and around the world. Links between sleep patterns and obesity, physical activity and stress, social support and illness – and more – can be explored thanks to the vast database already in hand.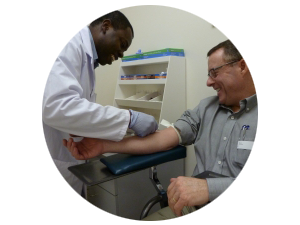 Alberta's Tomorrow Project would like to thank participants for their dedication and commitment.
Their willingness to take part will help researchers tackle these challenging questions at lower cost, in less time, and by virtue of our number strength, with more certain conclusions. As a result, scientists will gain better insight into what causes cancer and chronic diseases, to reduce their considerable burden through better prevention and treatment in the future.
We'd love to hear your story!
We'd like to profile some of our wonderful participants periodically on this page. If you're interested or you know of someone who is, please
get in touch with us
!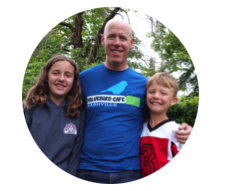 Doug Johnston, Calgary
When I first heard of Alberta's Tomorrow Project, it seemed like something that wouldn't require much effort on my part but could be really beneficial for others in the future. I thought about my kids, grandkids and even great grandchildren to come; it would help them more likely than my own generation. There's a history of cancer in my family, and I hope that underlying causes of cancer and new treatments can be uncovered. All of us have been affected directly by these chronic diseases, either by getting ill ourselves or having a loved one get sick. Knowing I play some small role in finding answers for future generations is a real motivator.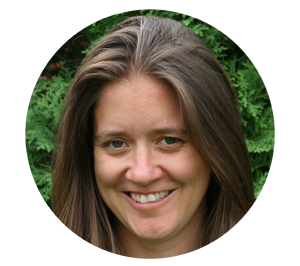 Krista Osborne, St. Albert
I first learned of Alberta's Tomorrow Project when I was 34, so I actually had to wait a few months until I could officially join. As a clinical social worker I also specialize in grief and loss. I've seen family members go through palliative cancer care, and felt so helpless, unable to offer anything but support. Joining ATP almost felt like a calling; here's something I could do that couldn't help that family member, but perhaps someone else down the line. Becoming a participant was a way of finding some "meaning in the mess" of suffering.
I know Alberta's Tomorrow Project will gather important data that will take some guesswork out of future decisions for diagnosis and treatment. Hope is really the trigger for me. To me, this project offers hope that as we move forward we will be in a place where we can learn more, and suffer less.
Collette Smith, Edmonton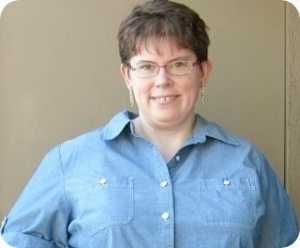 I joined Alberta's Tomorrow Project in February 2010, just months after both of my parents had faced their own battles with cancer. My mother's cancer was found early and she was successfully treated with surgery; my father's had spread and despite aggressive treatment, he died in October of 2009. I heard about Alberta's Tomorrow Project shortly after his death and as I learned more about the study, I came to believe that it would be a concrete way to help bring some good out of a horrible situation. Though it was too late to help my parents or anyone who has cancer today, my hope was that my participation in the study could help people who will face cancer in the future.
My background is in nursing, and I have had the privilege of serving people in different stages of their cancer journey, from diagnosis through to palliative care. Professionally, I've seen the effects cancer and its treatment on people and I have watched as cancer has taken its final hold. From a personal standpoint, cancer is very prevalent in my family, with about 70% of deaths in my immediate family being caused by cancer.
My hope is that someday we will learn enough about cancer and its treatment that it won't be the horror that it is today. While 60% of cancer patients survive, that means that 40% do not. I know how difficult treatment can be on a person both physically and emotionally and have experienced the emotional rollercoaster that comes from supporting a loved one with cancer. I hope that as we learn more about cancer's causes and its response to treatment, we can make cancer easier to live with and to treat.