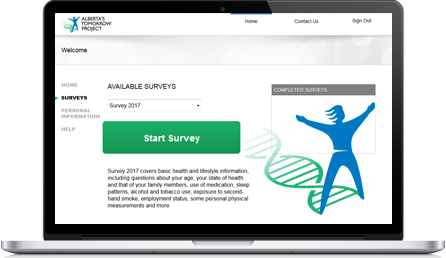 It's follow-up survey time, and we have news! Survey 2017 is now available both online and on paper.
We've been sending out paper versions of Survey 2017 to participants who have let us know that's what they prefer. For tens of thousands of other participants whose email addresses are on file, invitations to register have now all been sent out. The email was titled "Survey 2017 is Now Ready" and was sent from tomorrow@albertahealthservices.ca. If you are unsure whether or not you completed the survey online, you can visit myATPhub.ca. You may also visit this link to register for, and request a PIN, for online survey access.
Going digital means your responses are captured as accurately as possible, while printing, mailing, and manual review costs are avoided. Strong fiscal management ensures the long-term sustainability of this valuable project.
Rest assured that your privacy and confidentiality remain a top priority at Alberta's Tomorrow Project. We have partnered with the Government of Alberta to create a secure and private online registration process.
Remember, your ongoing involvement in Alberta's largest health research study is crucial to ensure that the huge database continues to grow and support cancer and chronic disease research.
Whether on paper or online, Survey 2017 will take you approximately 45 minutes to complete.
For tips to help you get started with the online Survey 2017, please visit any of the links below. We're here to support you. If you have feedback to offer, please don't hesitate to contact us.