COVID-19 Antibody Testing (CAT) study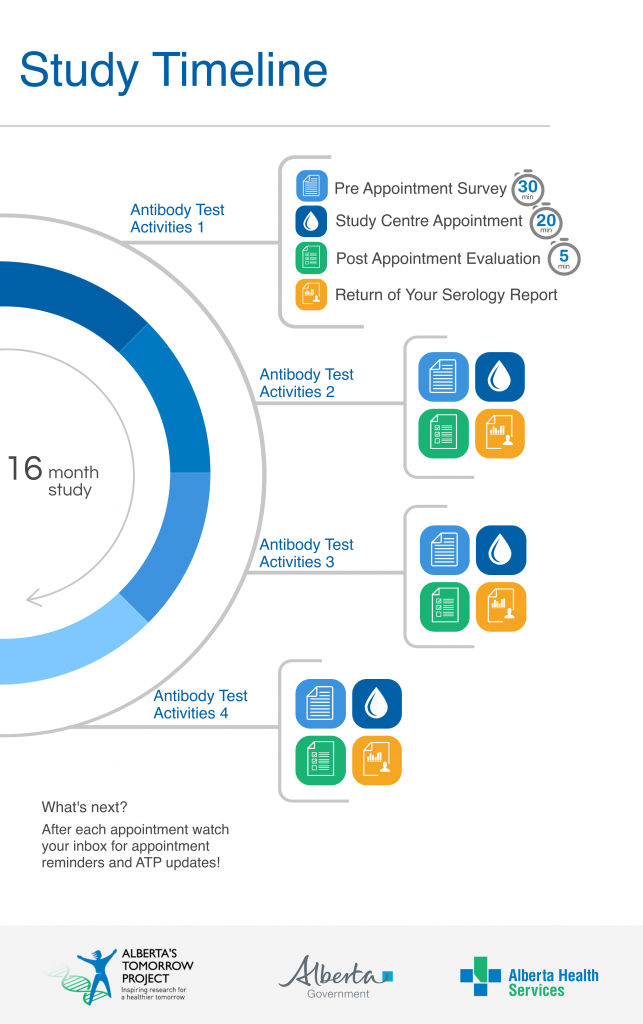 The Covid-19 Antibody Testing (CAT) Study has now concluded for Alberta's Tomorrow Project.  Thank you to the participants who participated in this study!
What did this study involve?
Alberta's Tomorrow Project was one of four studies embarking on a select provincial study that tests for COVID-19 antibodies within adult Albertans.
In total, 4000 participants from our current cohort who are residents of Calgary, Edmonton, Lethbridge and Red Deer and match pre-determined criteria for this study received email invitations to take part. Only registered participants from our cohort could take part in this study.
Over a period of one year, participants were asked to do the following four times (about every 4 months):
Complete a survey online, and
Visit a local study centre to give blood.

2-3 small tubes will be taken at three appointments (about 1-2 tablespoons total)
5 small tubes will be taken at one appointment (about 3-4 tablespoons total)
ATP is a cancer and chronic disease research platform. Why were we doing this study?
Dr. Deena Hinshaw, Alberta's Chief Medical Officer of Health, tasked us with conducting this study, which is also known as serology testing. The study aims to find out how many Albertans have been infected with the coronavirus. Blood drawn from participants was tested for COVID-19 antibodies.
In addition to understanding the direct health impacts of COVID-19 infection, we see growing evidence that there may be links between infectious diseases (like viruses and bacteria) and non-infectious chronic diseases (like diabetes, cardiovascular disease and cancers). We hope that comparing the findings of our study with data on health and lifestyle factors will help determine whether a coronavirus infection may have long-term effects on chronic disease.
 The Results
Participants received antibody test results by phone or by mail.  More information was provided with test results.
Study results will be most accurate if the same participants provide blood samples over a period of time, so we encouraged participants to complete all four appointments.
Please note: An antibody test cannot tell whether you're currently infected with the COVID-19 virus because it can take up to three weeks after an infection for your body to create antibodies.
Blood Sample Volumes
The blood sample collection volume changes in timepoint 2.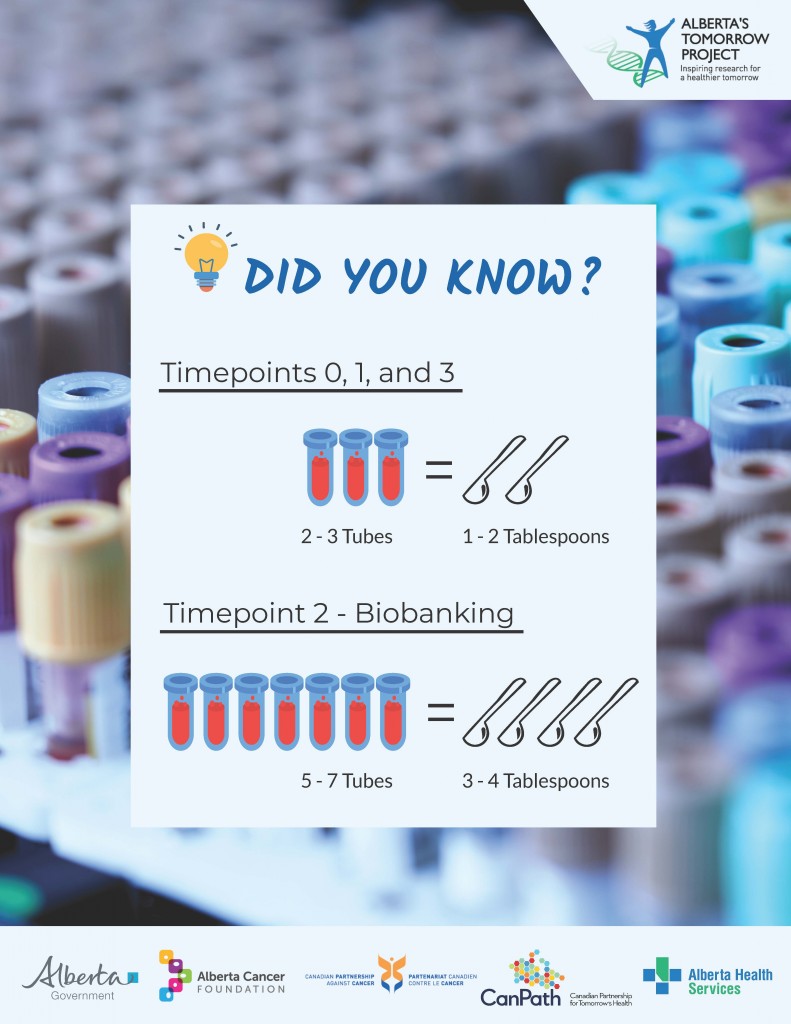 Study Center Locations
Calgary : Richmond Road Diagnostic & Treatment Centre
1820 Richmond Road SW
Red Deer: Johnstone Crossing Community Health Centre
300 Jordan Pkwy
Edmonton : Dickinsfield Mall
9228 144 Ave NW
Lethbridge: Melcor Centre
424, 5 Street South
Map (Link to map)