Welcome to our follow-up Survey 2023!
The follow-up Survey 2023 is now live for Alberta's Tomorrow Project (ATP) participants!
What is Survey 2023?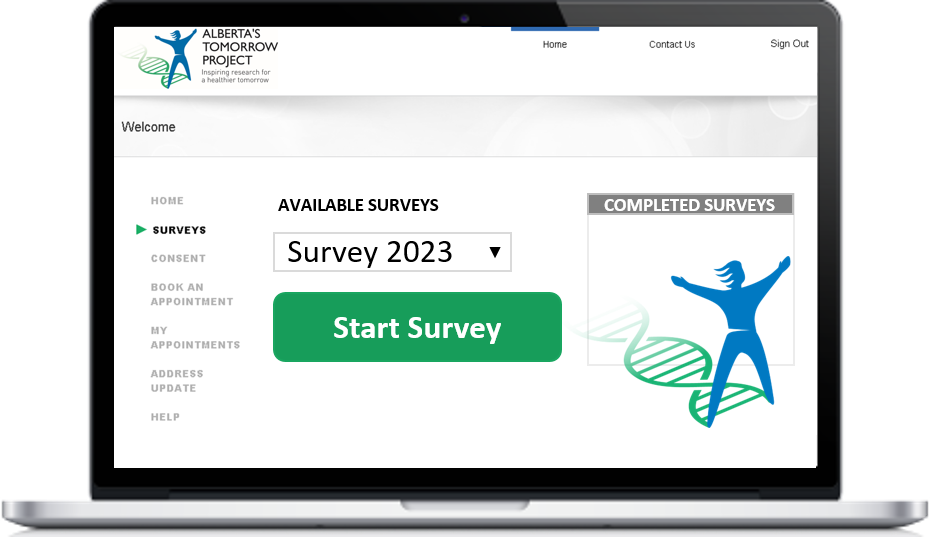 Survey 2023 is an online follow-up survey that will be distributed to ATP participants from May to June 2023. The survey collects updated information on participants' health and lifestyle practices, including cancer and long-term health conditions, cancer screening, mental health, quality of life, alcohol consumption, smoking status, body measurements, family health history, as well as the ongoing impacts of COVID-19. Questions unique to this survey include cell phone usage and a new way of providing occupational data. We estimate that it will take each participant about 30-60 minutes to complete Survey 2023.
After Survey 2023 is completed, an optional Diet and Physical Activity survey will be available to complete as well, which will help answer how dietary and physical activity changes may impact health. We estimate that it will only take 20-25 minutes to complete this survey.
Frequently Asked Questions
For more information, please visit our Survey 2023 Frequently Asked Questions page here: https://myatp.ca/survey2023-faqs
Timeline
Participants will have approximately 8 weeks to complete Survey 2023 from the date they are first sent the survey invitation. There will be approximately 2 weeks to complete the optional Diet and Physical Activity survey from when it first becomes available.
Why is this important?
Follow-up information ensures that ATP's vast and updated database is useful for researchers investigating cancer and chronic disease. Repeat collection of health and lifestyle information from our participants enables the assessment of health changes over time and creates scientific value for future research using this data. Survey 2023 is also timely as it helps to better understand the ongoing impacts of the COVID-19 pandemic on Albertans.
So far, 107 research papers have been published using ATP data. You can find detailed information about how researchers are using ATP data here (Approved Research Projects – Alberta's Tomorrow Project (myatpresearch.ca)).
ATP research productivity by year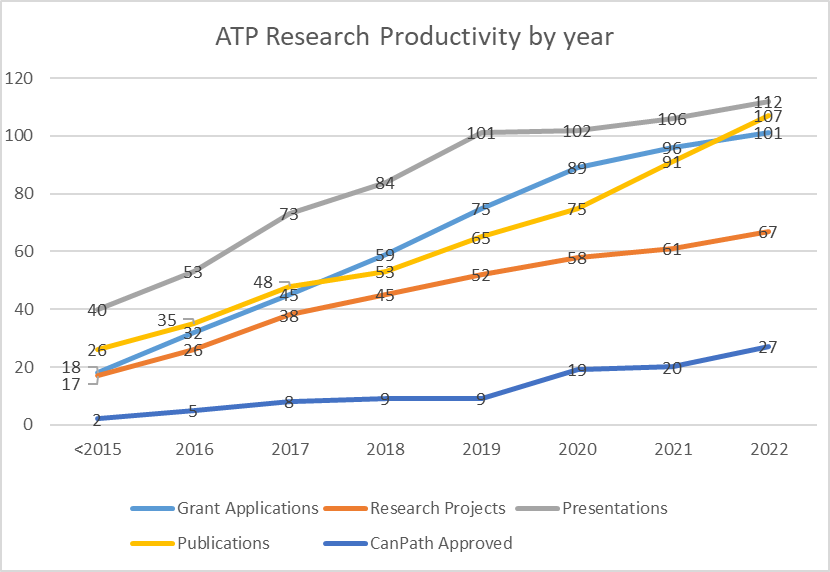 Requirements to complete Survey 2023 online:
Participants need to have a unique email address on their ATP participant file in order to be sent a Survey 2023 invitation and the specific instructions that apply to them.
Participants will need to be able to login to the ATP Participant Portal where the survey is located
Note: Not everyone will be sent the same instructions. Some participants have already connected to the ATP Participant Portal so will be sent instructions to login and begin Survey 2023 right away. Other participants haven't connected to the ATP Participant Portal yet so will be sent additional instructions to register first before being able to login and begin Survey 2023.
Contact Us
If you are an ATP participant and require assistance, please let us know. We want Survey 2023 to be as easy for participants as possible and one of the ATP Project Assistants will be very willing to help if you need it!
Email Us: tomorrow@albertahealthservices.ca
Call us (toll free): 1-877-919-9292
Call Centre hours are Monday to Friday, 8:30am – 4:00pm MST
Please continue to visit this page for updates.