SMS Text Message Opt-in Instructions
Alberta's Tomorrow Project (ATP) is now able to send SMS text messages to participants who opt-in!
We hope this will help us reach participants better. Text messages will only be sent occasionally such as to send text reminders for a survey. Participants will be able to opt-out at any time if they change their minds.
Please help us enhance ATP participation by opting in now!
Option A: For ATP participants who have already registered to access the ATP Participant Portal.
If you are one of these participants and consent to receive text messages, please log in to the ATP Participant Portal by going to myATPhub.ca and then complete the following instructions:
Click on the "Address Update" menu on the left-hand side.
Enter your cell phone number in the "Cell Phone" field and again in the "Confirm Cell Phone" field.
Click the "Optional Opt-in to Text Messaging" checkbox.
Click "Update".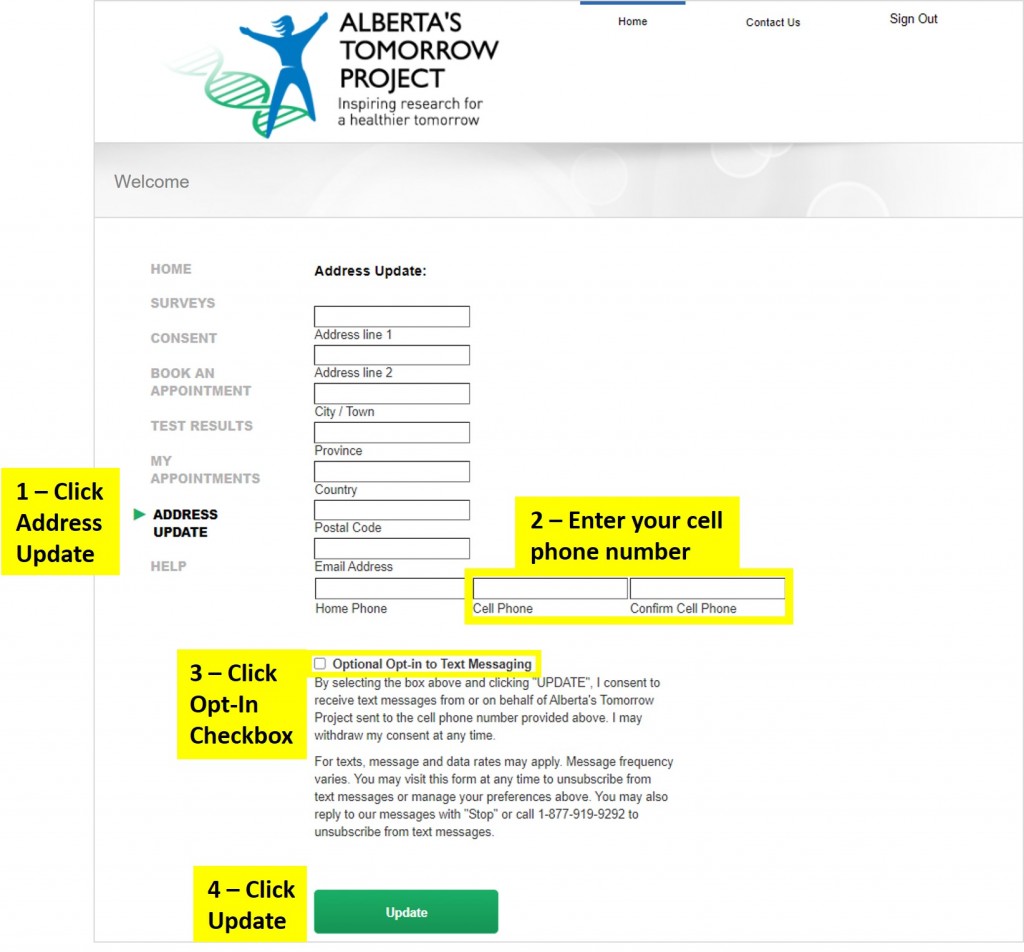 Option B: For all ATP Participants
Participants who consent to receive text messages can contact us at the ATP call centre and one of the project assistants will be happy to update your cell phone number on file, and opt you in for SMS text messages.
Please note that text message and data rates may apply. Message frequency will vary. You may visit this form at any time to unsubscribe from text messages. You may also unsubscribe by replying "Stop" to any of our messages or by contacting us at the ATP call centre.
If you need to contact us, please email us at tomorrow@ahs.ca or call us at 1-877-919-9292.
Thank you for being a participant in Alberta's Tomorrow Project!