"It is more than just a job, we really care and viscerally feel the value of ATP and how precious a project it is"
Former Communications Advisor with ATP shares her journey of helping ATP's platform grow into what it is today.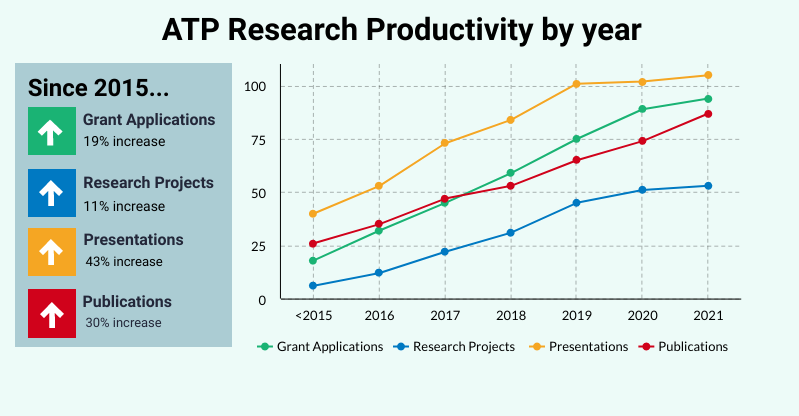 Sharon Basaraba has worked as a storyteller in healthcare and medical news for 20 years. Her passion for health and research, and incredible experience as a broadcaster and journalist is what led her to become the Scientific Communications Advisor with Alberta's Tomorrow Project from 2015-2019.
When Sharon joined the team, ATP was nearing the final recruitment of its 55,000 participants, a huge achievement for the team since launching in 2001. Once participants were on board, Sharon faced the challenge of generating awareness of this valuable platform to researchers on a regional, national and global scale.
"There was great opportunity for the ATP platform, but it came with its set of unique challenges including the changing needs of diverse participants and audiences," shared Sharon. "How would we keep our participants engaged and motivated? How do you get researchers using this platform? Because if you can't, it's as if the data was never collected. This is where my career with ATP started, and initially, it was a steep climb."
Sharon began exploring strategies to connect researchers to this massive platform, including talking to senior scientists working with similar longitudinal studies around the world. The many conversations helped form ATP's communications strategy to put its data to work, and where the 'open for business' period of ATP started.
"Marketing the ATP platform was about personal contact and connection," said Sharon. "From speaking to others in the research community, I was able to gather tips such as targeting early career researchers, and presenting at conferences to promote the ATP platform and projects. We knew that ATP's impact would increase as more researchers accessed our data – the quality of ATP data was undeniable."
ATP team's strategy paid off. In 2015, some researchers were already using its data while the build phase of the program was finishing; awareness of the platform has grown exponentially since then. Since ATP opened for business, the number of projects using the data and outputs produced from the research platform increased by eight times, and the number of publications increased by more than three times.
With Sharon's contributions, communications leadership and passion for the vision of this platform, the ATP team has experienced growth year over year. When Sharon reflects on her time with the team, what stands out for her is the devotion of the people driving the project, as well as the participants.
"Whether its former team members like myself, or those still with ATP, we share a passion for this project, and continue to champion it," says Sharon. "It is more than just a job, we really care and viscerally feel the value of ATP and how precious a project it is. That engagement is a huge asset that ATP has benefitted from."
Sharon also gives credit to the dedicated participants, who joined knowing they likely wouldn't get any direct benefit out of it themselves, but they joined for future generations. ATP is fortunate to have the commitment and dedication from a large number of Albertans.
The team is thankful for Sharon's hard work, the contributions she made to ATP, and her continued passion for cancer care and research with Alberta Health Services as a Senior Advisor, Scientific Communications and Engagement with Cancer Research and Analytics in Cancer Care Alberta.